First and foremost, my apologies for having been absent from my blogging for so long. With that, on to the story...
My car was in terrible need of washing, and after a hot Texas Sunday afternoon, I thought I'd slip on some shorts and get to it. What's more, the kids needed some "outside time," so they donned their swimsuits for some fun with the water hose. Now, for those that don't know me personally, I have two children -- a 12-year-old son, and an 8-year-old daughter, and they are both incredible kids in every respect, and I am blessed beyond words by them daily. My daughter is very active and enjoys being outside, while my son (a red-headed, fair-skinned "ginger kid") would rather play Tony Hawk than actually ride a skateboard. That being the case, my daughter was eager to participate, while my son required some encouraging...
As we made our way around the car, I tried to teach them (as I try to do whenever the opportunity is presented) to teach them some practical things about cars in general...repeating the explanation as necessary when the occassional bee or helicopter distracted them. (And, of course, this meant "accidentally" spraying them with the hose a few times as well...) But there were also some times when I had to repeat an instruction or an explanation simply because they didn't pay close enough attention, or they simply got in a hurry and were doing things the way they thought was easiest.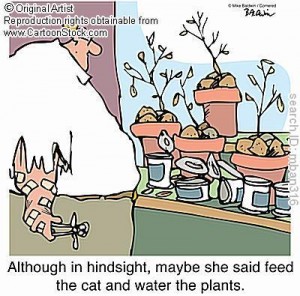 That's when the light came on for me -- it was clear that this was exactly like our experience with God sometimes can be. First, He calls on us to take on a task, not because He couldn't do the job all by Himself (and certainly better than us!), but because He wants to enjoy the experience of working with us. And sometimes we're reluctant to respond, because we'd rather be doing something else entirely -- like playing video games instead of washing the car. What we fail to see in those moments is that the opportunity (to enjoy closeness with our Father) is far greater than the cost (the work involved).
Of course, once we do finally step up and get into the work to which He has called us, we tend to sometimes try to take shortcuts or do things our own way. If you saw my car "post-wash," you'd see precisely why this is a problem. While it may have looked like the kids were doing a great job and working really hard on washing the car, there were some places that apparently the sponges didn't get to. While the work was going on, an outside observer might've never known, but when the job was done, the patches of "dirty car" told the story all too well. Doing it theirway really made all of the work that was done properly ineffective and incomplete. Had they listened to and obeyed the instruction of their father, the work wouldn't have been in vain, and the car wouldn't require yet another washing.
(I could use this analogy to discuss lots of different topics, from evangelism strategies, to church culture, to worship music, etc., but we'll save those topics for another time...)

What's the Point? It's Only Going to Get Dirty Again
"Murphy" was on his game for sure today, because, as we were reaching the half-way point in the car wash, thunder rolled in the distance as a summer storm began to brew. Of course, now with the kids soaked, the car half-washed, and rain on the way, the thought crossed my mind that there wasn't much point in finishing. Just rinse off the soap, put away the hose, and head indoors, right? Well, that depends on what I washing the car for in the first place. Was it dirty? Oh, yes -- it was very dirty. Did I need to spend some time outside? Yes, I needed to be up and moving around, as did my kids. But if this exercise had really been about getting the car all shined up, I honestly probably wouldn't have enlisted the kids. In fact, I probably would have run down the street to the car wash and had someone else wash the car. No, this was about me spending time with my kids -- time to enjoy companionship, to talk, to laugh, to play, to teach, and to accomplish something together. The fact that rain might come in the next hour and wash away all of the visible evidence of our labor was unimportant.
Maybe that's like an experience you've had lately -- where you felt God leading you into a project or a down a path in life where you had great expectations of accomplishing something together, only to find that after a great deal of work that all of your efforts were in vain. Well, at least two possible explanations for this might be that, (1) God brought you through the experience simply to engage you to work closely with Him for the sole sake of enjoying the closeness you had together, or (2) you put forth a great deal of effort but did things your own way instead of His, so that when the soap was rinsed away, it was obvious that the job wasn't done properly.
In either case, the lesson to be learned here is that, just like my experience today with my own kids, God desires to spend "quality time" with us, His children. Sometimes that time comes in the form of activity we enjoy doing, and others it requires us to step out of our comfort zone and do something contrary to preference. Sometimes the work will be fruitful, and others will leave us with nothing tangible to show for our efforts. In any case, we should be grateful that He loves us enough to even be concerned for our existence, much less that He desires our participation in what He is doing.
What have you done to spend time with your Dad lately?
Stay salty,
...Nick